SNI3050
The Siselectron Technology SNI-3050 switch is the new generation of L2, L3 19-inch ethernet standalone switches with 48 x 10/ 100/1000 Base -T downlink plus 2 x 1 G/100 Base-X SFP-1- uplink ports.The SNI-3050 is ideal for branch office access network design. It integrates advanced management and security functions for contemporary data center requirements.
Extensive Layer 2 Features
Equipped with full Layer 2 features like Spanning Tree, Link Aggregation Control Protocol (LACP),IGMP Snooping and Port Mirroring, the Siselectron Technology. SNI-3050 provides loop -free environment, flexible throughput adjusting, best control of multicast traffic and network monitoring. Supported with 802.1 G up to 4094 active VLANs in the Siselectron Technology.SNI-3050, it secures broadcast domain as well as resource access in between each VLAN.
QoS, Bandwidth Control
Simplified Management
Datacenter application
Physical ports
• Port configuration:
48 10Base-T/100Base-TX/1000Base-T
and 2 1/10G SFP ports
• Management Port:
Out -of -band management port
(RJ-45, 10/100/1000Base-T)
• Console Port: 1 (RJ-45)
• USB: 1 (v2.0)

Performance
• Switching capacity: 136 Gbps
• Maximum forwarding rate: 101.2 Mpps
• Memory: 512 MB
• Flash: 32 MB
• MAC: 16K

L2 Features
• Switching mode: store -and -forward
• Spanning Tree Protocol:
- 802.1D, 802.1w and 802.1s
- Fast Forwarding
- Edge Port
- Loop Guard
- BPDU Filter/Guard
- Auto Edge
- TCN Guard
- Root Guard

VLAN
- IEEE 802.1Q Tagged Base
- Port -Based
- Private VLAN
- GVRP / GMRP
- 802.1v Protocol VLAN
- MAC -Based VLAN
- IP-Subnet VLAN
- MAC - Based Voice VLAN
- VTP v1/v2
- QinQ
• Storm Control:
- Broadcast
- Unknown multicast
- DLF (Unknown unicast)
• IGMP snooping:
- v1/v2/v3
- v1/v2 querier
- immediate leave
• Link Aggregation:
- 802.3ad with LACP (64 groups)
- Static Trunk
- Unicast/Multicast Traffic Balance over
- Trunking Port
- LACP Fallback

Management Features
• Industrial command - line interface
• CLI filtering
• Web Based Management / HTPPs
• Telnet/SSH
• Software download/upload:
- TFTP, Xmodem, FTP, and SCP/SFTP
• Configuration download/upload:
- TFTP, Xmodem, FTP, and SCP/SFTP
• SNMP v1/v2c/v3
• SNMP inform: v2/v3
• RMON 1, 2, 3, and 9
• BOOTP: client/relay
• DHCP: client
• Event / Error Log: Local Flash
• DDNS
• DNS: client
• Remote PING
• Traceroute
• SNTPv4
• LDAP: client
• LLDP: 802.1 ab
• CDP
• UDLD
• Port mirroring: SPAN
• sFlow v5
• Cable test
• Email alerting
• CLI scheduler

Security Features
• Static and dynamic port security
(MAC -based)
• 802.1x: Port -based, MAC -based,
auto VLAN assignment, guest VLAN,
unauthenticated VLAN
• Access Control List: L2/L3/L4
• IPv6 ACL: L3/L4
• RADIUS: Authentication and accounting
• TACACS : Authentication
• HTTPS and SSL: AES128-cbc, 3ES-cbc,
Blowfish-cbc.
• SSH 1.5N2.0: AES128-cbc, 3ES-cbc,
Blowfish-cbc.
• User name and password:
Local Authentication, Remote
Authentication via.
RADIUS/TACACS , AAA.
• Denial of Service control
• Management IP filtering:
SNMP/Telnet/SSH
• MAC filtering
• IP Source Guard
• Dynamic ARP inspection (DAI)
• DHCP snooping

QoS Features
• Scheduling for priority queue:
- WRR, Strict, and Hybrid (WRR Strict)
• CzOS: 802.1p, IP TOS precedence, and DSCP
• DiffServ
• Auto VolP
• Port rate limit

IPv6 Management
• IPv4/1Pv6 Dual Protocol Stack
• ICMPv6
• ICMPv6 Redirect
• IPv6 Path MTU Discovery
• IPv6 Neighbor Discovery
• Stateless Autoconfiguration
• Manual Configuration
• DHCPv6
• SNMP over IPv6
• HTTP over IPv6
• SSH over IPv6
• IPv6 Telnet Support
• IPv6 DNS resolver
• IPv6 RADIUS/TACACS support
• IPv6 Syslog support
• IPv6 SNTP support
• IPv6 TFTP support
• Remote IPv6 Ping

Mechanical
• Dimension (HxWxD):
- 44 x 440 x 292 mm
• Weight:
- 4 kg/ 8.811 lbs (NET)

Environmental
Specifications
• Operating temperature: 0 - 45°C
• Operating humidity:
- 90% maximum relative humidity

Electrical
• Power requirement:
100-240VAC, 50/60Hz.
• Power consumption: 63 watts
Electrical
• Power requirement:
100-240VAC, 50/60Hz.
• Power consumption: 63 watts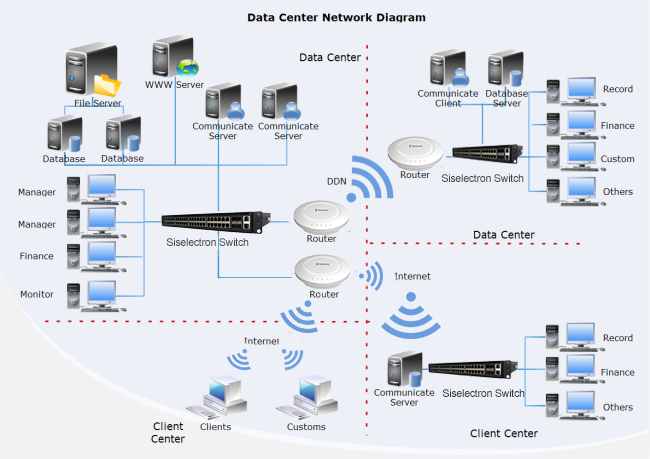 (image)
About SNI3050
Let's keep in contact! Publish a comment about SNI3050